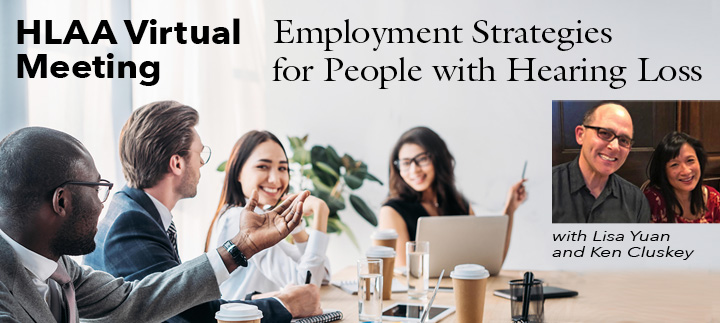 Lisa Yuan and Ken Cluskey, former LA Chapter members, will be on primetime this Saturday to share their wisdom and knowledge pertaining to employment strategies for those with hearing loss. You don't want to miss this!
Presented by: HLAA District of Columbia Chapter
Speakers: Lisa Yuan and Ken Cluskey
Date: Saturday, January 9, 2021
Time: 4 p.m. ET, 3 p.m. CT, 2 p.m. MT, 1 p.m. PT
Finding and maintaining a job with hearing loss can be challenging, and for many, those challenges have likely been magnified during the pandemic. In this program, Lisa Yuan and Ken Cluskey will share experiences and strategies they have developed during more than 30 years in both the public and private sectors on searching for a job, obtaining employment and achieving success once employed. The program will include tips and resources related to the specific challenges that people with hearing loss may face as they navigate their careers.