HLAA Virtual Meeting with Lisa and Ken!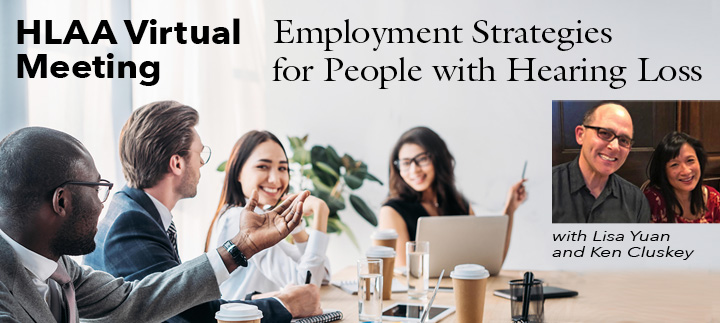 Lisa Yuan and Ken Cluskey, former LA Chapter members, will be on primetime this Saturday to share their wisdom and knowledge pertaining to employment strategies for those with hearing loss. You don't want to miss this!
Presented by: HLAA District of Columbia Chapter
Speakers: Lisa Yuan and Ken Cluskey
Date: Saturday, January 9, 2021
Time: 4 p.m. ET, 3 p.m. CT, 2 p.m. MT, 1 p.m. PT
Finding and maintaining a job with hearing loss can be challenging, and for many, those challenges have likely been magnified during the pandemic. In this program, Lisa Yuan and Ken Cluskey will share experiences and strategies they have developed during more than 30 years in both the public and private sectors on searching for a job, obtaining employment and achieving success once employed. The program will include tips and resources related to the specific challenges that people with hearing loss may face as they navigate their careers.
Young adults with hearing loss are encouraged to attend. Zina Jawadi, a young adult with hearing loss, is a member of the HLAA Board of Directors. She will talk about the initiatives and goals of the HLAA Young Adults Hear Committee.
Lisa Yuan and Ken Cluskey are recent newlyweds and live in Washington, D.C. Both Lisa and Ken began losing their hearing as young adults. They each wear one cochlear implant and one hearing aid. Lisa and Ken are active members of HLAA and have served as HLAA chapter leaders and currently serve in other supportive roles for several chapters.
Lisa Yuan is a public health analyst at the National Institutes of Health in Bethesda, Maryland. Prior to joining the federal workforce in 2015, she spent more than 25 years in the private sector, working at entertainment advertising agencies in Los Angeles as a computer production specialist. She also recently completed the Presidential Management Fellow program, a two-year training and leadership development program of the U.S. Office of Personnel Management.
Ken Cluskey is an economist in the Office of Compensation and Working Conditions at the U.S. Bureau of Labor Statistics. Since 2018, Ken has worked to develop and maintain procedures for the Occupational Requirements Survey (ORS) and National Compensation Survey (NCS). From 2012 to 2018, he worked in the Office of Hearing Operations supporting the adjudication of disability claims. This included extensive work with disability claimants, administrative law judges and vocational experts. Prior to joining the federal workforce, Ken worked in both the nonprofit and private industry primarily in banking and real estate.