Join Us for a Meeting with Department of Rehabilitation
Date: Saturday, February 27
Time: 10 a.m. – 11:30 a.m. PT
Save the date and plan to join us for an engaging and informative presentation from the Department of Rehabilitation (DOR). This meeting was a highly requested topic requested from many of you so now is your chance to discover what DOR is all about. Equip yourself with tools to attain employment, achieve independence and realize equality!
This presentation will cover the application process in order to become a DOR consumer, the types of service the consumer will receive, what is expected from the consumers, and the expected outcomes. Plenty of Q&A time afterwards!
Please share this information with others you feel may benefit from this presentation.
Presenters
Ruben O. Valido, MS, CRC – Meeting Facilitator
BA Degree in Psychology from Florida Atlantic University;
Master's Degree in Counseling (with focus on Vocational Rehabilitation) from California State University Los Angeles;
I have been with the CA Department of Rehabilitation since 2007.
Roberto Cabrera, Senior Vocational Rehabilitation Counselor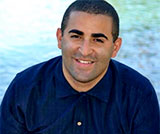 Roberto Cabrera is a Senior Vocational Rehabilitation Counselor for Deaf, DeafBlind, DeafDisabled, Hard of Hearing and Late-Deafened (DDBDDHHLD), Roberto is a member of the core team with DeafBlind Interpreting National Training and Resource Center and one of the leading mentors with DeafBlind Interpreting Training Institute at Western Oregon University. Roberto is representing different organizations: Council de Manos, California Manos del Corazon, and Southern California Association of the DeafBlind.