March 2021 Meeting Recap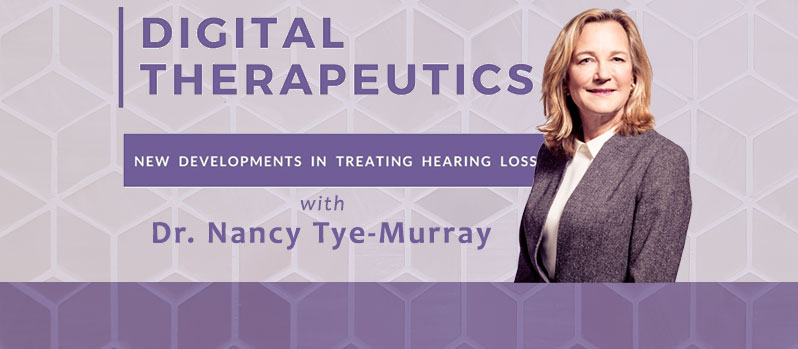 On March 27th, the HLAA – Los Angeles Chapter hosted "New Developments in Treating Hearing Loss: Digital Therapeutics" on Zoom, for its monthly Chapter meeting.

This presentation was led by Dr. Nancy Tye-Murray, Ph.D., who is a professor of otolaryngology-head & neck surgery at Washington University School of Medicine and the CEO and Founder of clEAR and Amptify.
You may view the presentation here.
Dr. Tye-Murray began her presentation by introducing the audience to the three pillars of hearing health care: diagnostics, treatment, and rehabilitation. She focused on 'rehabilitation', the third category to explain how digital therapeutics can help people with hearing loss improve word discrimination, familiarity with everyday words, listening confidence, and auditory cognitive skills, including auditory processing speed, auditory word memory, and auditory attention.
A digital therapeutic is a software-based intervention for a disease or disorder that is clinically validated to drive a specific positive outcome. It is often used in combination with a drug intervention or a medical device (e.g., hearing aids).
This presentation was opened by Jered Solow, from the California Hearing Center and closed by Sharon Swerdlow, Steering Committee member of the HLAA – Los Angeles Chapter.  Rizwana Jmari, also a member of the Steering Committee member of the HLAA – Los Angeles Chapter, led the Q&A discussion wherein a number of thoughtful questions from the participants were addressed.
You can watch the captioned recording of this presentation below.