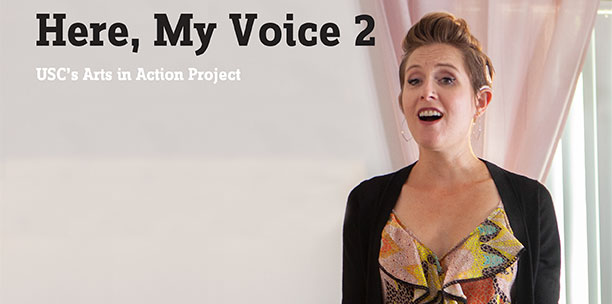 Here, My Voice 2: Supporting the Power of Voice of Hard of Hearing People
Are you a cochlear implant or hearing aid user and interested in receiving personalized voice lessons with a professional vocal artist?
USC's "Here, My Voice" program is looking for adults with hearing loss for the study focusing on improving vocal confidence and joy of self-expression. Participants can choose to work on vocal expressions such as singing and spoken words. The lessons will be held over Zoom or in-person for one hour per week over a 12 week period. No prior music or singing experience is required. Individual voice lessons are provided to participants at no cost to them. If you agree to participate, you will be asked to fill out surveys and be part of individual interviews. Data will be anonymously collected. You will receive a $100 gift card as a token of gratitude for participating. Your participation is voluntary and you can withdraw from the study at any time.
Please contact Juri Hwang by clicking the Learn More! button below or email at jurihwan@usc.edu for more information.