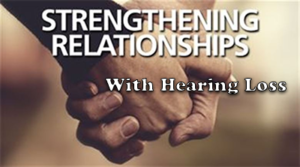 Love is in the air! And in honor of Valentine's Day, we are doing a moderated panel on coping with hearing loss featuring: married couples, single and dating, and parent-child challenges! Note these panel participants will come from a mixed environment – one hearing and other hard of hearing.
It's going to be an awesome love-fest, so come prepared with any questions you may have regarding your own communication/relationship issues, and please invite hearing family members and significant others to attend!
Networking starts at 9:30am with the meeting starting at 10:00am and going until 12:00pm. As always, the meeting will be CART captioned and looped for tele-coil users; coffee and refreshments will be served. You are welcome to bring breakfast potluck items to share.
We are meeting at the Huntington Memorial Hospital. Directions here. See you on February 24th!