Join us and Learn About the California Telephone Access Program
Topic: Learning all the great benefits of CTAP!
Date: Saturday, August 27, 2022
Where: Online Zoom Meeting
Time: 10 a.m. – 11 a.m. PT
Audience: Open to all for this free event. Please pass along this invite to others!
The California Telephone Access Program (CTAP) is an invaluable service that many individuals are unaware of or don't fully understand the free services they may be entitled to. CTAP products are geared to meet many needs including telephones, amplifiers, ring-signal, speech devices, headsets, and many accessories. So much help is available, you just need to ask!
Please join us as Oskar Aguilar, from CTAP, will explain the program and benefits and get your questions answered. This service could make a difference for you and others you care about that could benefit.
Presenter: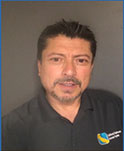 Oskar A Aguilar
Outreach Specialist
California Telephone Access Program