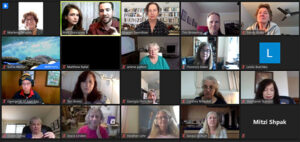 Meeting transcript
We had a great October meeting with Innocaption. Many thanks to Matt Goncalves and Christina Duarte of Innocaption for a terrific and timely presentation on the workings and important new features of the Innocaption app. We had a nice turnout and a robust Q&A participation.
We decided in lieu of our chapter November meeting to join HLAA-CA on Saturday, November 14th, at 1:00 pm for a presentation on Surviving the Holidays with Hearing Loss with our very own Allison Freeman presenting! Link to follow.
We will also be having an "Open House" on Thanksgiving Day from 11:00 am – 12:15 pm – feel free to stop by during that time frame to say hi and enjoy a little holiday community!