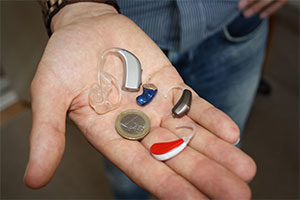 If you or someone you know is planning to purchase new hearing aids anytime in the future, our September meeting is for you! When you know what to expect, you are in a better position to make the right choices. This presentation will help you to maximize your success and outcome in selecting the best devices and features for you.
Our speaker is hearing loss advocate and HLAA-California Trustee Toni Barrient, who has held numerous positions with the State and National organizations. Toni will provide expert tips and guide attendees through the entire process of purchasing hearing aids, including what to look for and what to avoid, when shopping for your ears.
A valuable consumer checklist will be provided as a handout, so you know what to expect at every step, from making the appointment with your hearing aid provider to services, warranties, trial periods, and much more.
As a tie-in, CBS Sunday Morning has prepared a segment on the same topic, which will air at a later date. In the meantime, some good information is here https://www.cbsnews.com/news/guide-to-hearing-aids/
We'll also have elections for the full steering committee. More details to follow shortly.
Please join us!
Saturday, September 22, 2018
9:30am, socializing – 10am-noon, meeting