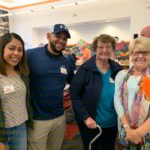 What a celebration we had yesterday in honor of our chapter's 15th anniversary!
Many thanks to Wendi Wash for pulling off a fun and interactive trivia game, complete with prizes, raffles and a festive and delicious cake. We are grateful to many of our founders who came from as far away as Riverside and Santa Barbara to celebrate with us, including Kat Burns, Danny Tibbs, Pat Widman and Alicia Fernandez.
You can view the meeting transcript here.