November Meeting to Remember – 15 Years!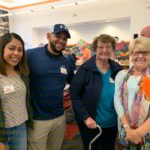 What a celebration we had yesterday in honor of our chapter's 15th anniversary!
Many thanks to Wendi Wash for pulling off a fun and interactive trivia game, complete with prizes, raffles and a festive and delicious cake. We are grateful to many of our founders who came from as far away as Riverside and Santa Barbara to celebrate with us, including Kat Burns, Danny Tibbs, Pat Widman and Alicia Fernandez.
You can view the meeting transcript here.
In addition to the anniversary party, we had a productive Q&A, moderated by Sandy Blake discussing some of the serious challenges we all face around these busy AND NOISY holiday months. There were many great suggestions from the group for dealing with a number of situations, including my personal favorite, going to talk to a pet when human interaction becomes too difficult (thank you Teri, and please see her post below)!
We also had a financial update from our Treasurer, Gary Jacobson, who was quite successful in his plea for feeding our " kitty", which was fuller than usual – thank you all for your generosity.
Details for our holiday party will be forthcoming but make sure to save the date: the evening hours of Saturday December 14th.
Finally, we are grateful that long-time members Wendi Wash and Georgia Fleischer have agreed to join Tim Browning, Sandy Blake and myself on the Steering Committee for this coming year and bring with them their great love for HLAA and many talents. An enormous shout out of thanks goes to Jen Nelson, our outgoing President, for the countless contributions she has made to the chapter, including securing the wonderful space we have enjoyed at the Sherman Oaks Library for many many months.