Fun Times at our Annual Holiday Party!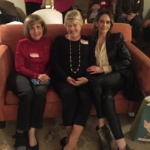 We had another successful HLAA Holiday Party at the beautiful home of Heather & Frank Lehr just over a week ago. The crowd was a great mix of long-time members as well as a number of new guests who are interested in what HLAA has to offer. We enjoyed turkey and ham, as well as several delicious side dishes supplied by Urban Plates. Kudos to the staff at Urban Plate for comping our salads and bread! And thank you, Heather and Frank, for the spiked punch!
After firsts and seconds (and maybe thirds?) at the buffet table, we all gathered in the living room for our white elephant gift exchange. It was hard for me to not steal the immersion blender I had my eye on, but I went home happy with a lifetime supply of Q-tips, as well as ear plugs and other hearing related goodies. Thank you Gary!
Note: As mentioned at the party and at our last meeting, we still have not finalized our meeting space for 2020, however, for the month of January, we will meet at our long-time home at the Sherman Oaks Public Library. Save the Date: January 25th, 2020 – it has a nice ring to it!
Wishing you all a Merry Christmas, Happy Hanukkah and Happy Everything!
See you in a few weeks
Sharon – HLAA-LA President