February 23 Chapter Meeting – Love is in the Air!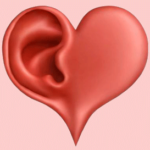 Back by popular demand, and in honor of Valentine's Day, we are hosting our annual relationship panel and interactive session! We will talk about the good and the bad when it comes to communicating with a loved one who has hearing loss. Whether married, dating, or just dealing with a family member, you'll be sure to have a blast! Please join us!
We meet at the Sherman Oaks Library, 14245 Moorpark Street; socializing starts at 9:30am, with the meeting running from 10am-noon. Coffee, juice, and water provided. Feel free to bring a breakfast item to share. See you there!