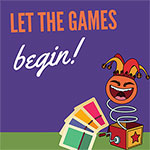 We have not had a fun and games meeting, so this July meeting we will!
Let's spark excitement, fun and laughter in our meeting.
Date: Saturday, July 24, 2021
Where: Online Zoom Meeting
Time: 10 a.m. – 11:30 a.m. PT (we may run over toward noon)
Let's joke! Let's play! Let's laugh!
Bring your A-Game and the best joke you've ever heard! Make us roll on the Zoom floor!
PS: Did we say there are PRIZES to win?!!
Any questions? Just email us at info@hlaa-la.org.