The Essentials for Caring for Hard of Hearing and Deaf Seniors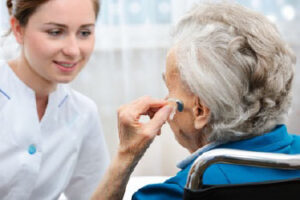 According to the National Institute on Aging (NIH), approximately one in three people between the ages of 65 and 74 have hearing loss, and nearly half of those older than 75 have difficulty hearing. Yet for those who care for an elderly loved one, the additional challenges of their hearing loss is sometimes an afterthought.
Learn how to address these challenges beforehand to ensure your elderly loved one have the care and support they need while giving you peace of mind.
Special thanks to Noelle Bennett, a teacher and advisor at Learning Haven, for sharing this resource from her student Anna. Thank you Anna!