A Farewell and Thank You to Sharon
by Sandy Blake
HLAA-LA Steering Committee Member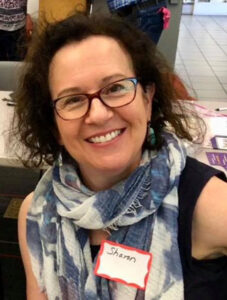 Sharon  Swerdlow has been the LA Chapter president since September 2019 and previously had served on the Steering Committee for one year. Sharon brought her finance expertise, tireless energy, gift for gab, good humor, one hearing aid and one cochlear implant, and dedication to the LA Chapter. We were all motivated to support Sharon in her leadership role and the meetings were filled with useful information, fun, supportive spirit, and refreshments. Sharon led an exhaustive search for a new meeting location, endlessly researching possibilities of venues, and basically turning the town upside down with her determination and focus.
When she met Jackie and Chris Gayer at the February 2020 relationship panel meeting, she began the pursuit of the Children's Hospital location through their introduction to the powers who be. It was the culmination of an intense search and had the pandemic not happened, most likely we would have had a new home for our meetings. Then Zoom happened and Sharon became the expert at hosting meetings online and continually providing programs of interest. We are all the better for Sharon's leadership and tireless advocacy for those of who have hearing loss. In the meantime Sharon applied and was approved for a Canine Companion. Her dog, Fergus is quite the companion in her household.
Many thanks to Sharon who stepped up and took our ragtag band of members through these past couple of years. We are grateful and wish you all the best as you find new vistas to pursue and conquer.