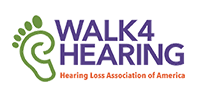 The annual fundraising Long Beach Walk4Hearing is coming up on Sunday, June 5. Please see helpful information below on how to join our "LA Stars" team, if you haven't already, and start raising funds! Your involvement will help in raising funds for our Los Angeles chapter and national organization.
To learn more and get information about Walk4Hearing, please visit our friends at the HLAA Diablo Valley chapter who put together a great Walk4Hearing overview.
For questions about the Walk, please reach out to Walk4Hearing Senior Manager, Ronnie Adler, at radler@hearingloss.org.