Getting Back Together for Walk4Hearing 2022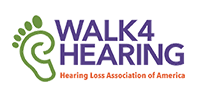 Hearing Loss Association of America (HLAA) has an annual fundraiser and raising awareness for hearing loss event called Walk4Hearing. It had been three years since we all got together for this event so for many attending, it was highly anticipated.
The LA Chapter "LA Stars" was once again the top fundraising team. We raised over $7,000 with many of our chapter members participating to raise funds for this important event. The weather was beautiful and the location perfect to enjoy and spread the word. Many folks stayed afterward for a nice lunch and to catch up. We also had a good turnout but expect a bigger turnout next year as many folks didn't attend this year out of precaution with Covid.
Wonderful memories and friends made with excitement already started for next year. See you then!
If you have any questions or would like to learn more, please contact us at info@hlaa-la.org.