Good Times at the Memorial Weekend Picnic
Good times and much needed catching up was the scene at our Memorial Weekend picnic held for the first time at Lacy Park in San Marino. The location for our gathering was in a beautiful shaded area of Lacy Park so with blue skies and cool temperatures – we couldn't have asked for a better setting! A big thank you to our President, Heather Lehr for arranging the location and gathering!
Heather couldn't join us but she was with us in spirit and her husband Frank, was kind enough to stick around at the beginning of the picnic to say hi and tell us the encouraging news regrading Heather's recovery. Expect some more good news in the coming weeks!
Despite the great turnout, including our Amazing Grace, there was way too much food so everyone put their diets on hold and enjoyed an abundance of food! Afterwards, leftovers were given to the homeless in need as a way to help others.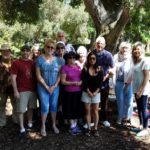 We didn't have our normal meeting in April to join in the March4Science festivities in downtown so there was a long break seeing people. The picnic was a perfect setting to catch up although we did miss those who couldn't attend! We are looking forward to those who will join the Walk4Hearing in Long Beach on June 10. We still need volunteers and don't forget any donations are greatly appreciated as they will help our Chapter and HLAA.
Stay tuned for more information coming about a July 4 party. After all, we are known for our parties and fun!