Meetings & Events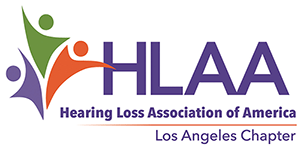 The primary purpose of HLAA-Los Angeles is to empower our community of people with hearing loss through information, education, advocacy, and support. You no longer need to be alone with hearing loss!
At the monthly meetings, chapter members and visitors have an opportunity to learn from expert guest speakers, ask questions, participate in interactive rap sessions, communicate about their experiences, participate in social events, and meet others who live with this challenging condition.
Membership
We welcome anyone, whether you are adjusting to a new hearing loss or have had one all your life; if you wear hearing aids, cochlear implants, or are getting by without any equipment at all. Professionals, college students, retirees, veterans, spouses, and parents/families of children with hearing loss are all encouraged to join our chapter.
Topics
A wide range of hearing loss-related topics are addressed at meetings, such as hearing health, assistive technology, communication tips, coping strategies, and personal/professional/government advocacy. If there is an area of particular interest to you, please do not hesitate to submit your suggestions to our Steering Committee for future consideration!
Meeting Information
Since March 2018, HLAA-LA chapter meetings have been held at our new, centrally situated venue, the Sherman Oaks Public Library (address and directions below). We allow time for socializing both before and after, with coffee and refreshments provided. All meetings are free of charge—nominal donations appreciated, but not required.
Schedule:
We meet the 4th Saturday of most months, with some exceptions for holiday schedules and conflicting library events. Click here for a summary of our past meetings.
Time:
10:00 a.m. to 12:00 p.m.
Doors open at 9:30 for social time
Meetings start promptly at 10:00 a.m.
Location: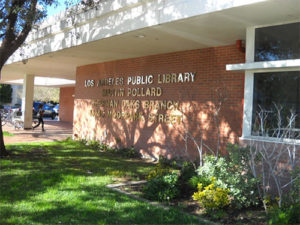 Sherman Oaks Library Community Room
(click below for map and directions)
14245 Moorpark St
Sherman Oaks, CA 91423
Just east of the intersection of Moorpark Street and Beverly Glen Blvd. Easily accessible from the Woodman Ave. and Van Nuys Blvd. off-ramps of the 101 freeway.
Small parking lot with designated disabled spaces and plenty of free street parking.
Accommodations:
In order to ensure that everyone is included, all our meetings have live captioning in real time and an induction loop system to stream sound directly into hearing devices with a T-coil setting.
We look forward to seeing—and hearing—you soon!