Join our Holiday Party and Reconnect!
Save the Date! It's time to get back together and reconnect.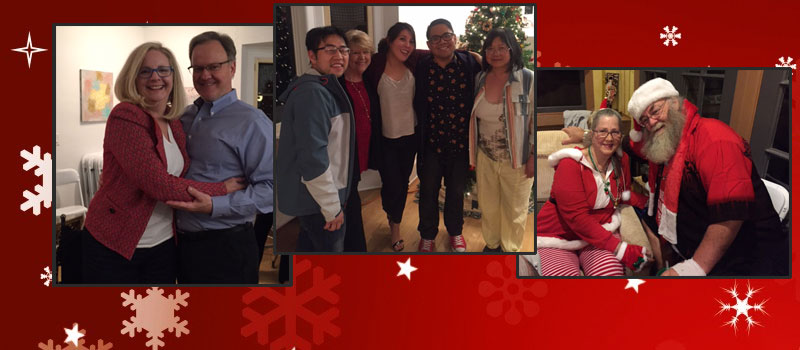 When: Sunday, December 11
Time: 1 -5 p.m.
Where: Heather Lehr's home. Address provided upon RSVP
Why: We need to!
RSVP TODAY!
(deadline to RSVP is November 27)
Hello, fellow chapter members and friends!
It's been three (long) years since we all got together for some laughter, joy and support! So 'tis the season for all of us to reconnect with a holiday party! Thank you so much to Heather for hosting once again. You won't want to miss the fun and a chance to catch up with friends.
Important Notes:
To make our lives easier, the chapter will cater the party. Food information will be provided later after you RSVP.
We will provide nonalcoholic drinks. Feel free to BYOB. (Yes, please!)
Feel free to bring a dessert – but no pressure because past experience has shown we would have enough desserts left over to start our own bakery!
We really need your help! Are you willing to come early, around 12:30-ish, or stay after to help clean up? Help pick up some people who might not be able to drive in? Please let us know when you RSVP.
White Elephant Gift Exchange. Secret Santa will be handing out the gifts. If you want to participate just bring a wrapped gift, valued around $20 or so. Anything new or used, cool, funny, weird or awesome – it's up to you! We will explain the game in person. Remember: STEALING OF GIFTS IS ENCOURAGED. You don't want to pass on the gift exchange! It's always one of the hilarious highlights!
Please bring family members and friends, especially anyone you know with hearing loss that could join people who "Get It".
Weather permitting, we'll likely have the party in and outdoors so dress accordingly.
Vaccination is not required but if you feel safer wearing a mask, please do.
The LA Chapter hopes you can make our shindig part of your holiday tradition. But whether we see you or not and however you celebrate, we wish you and yours a joyous season!