Walk4Hearing is Back! Join Us!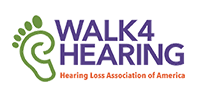 The annual fundraising Long Beach Walk4Hearing is coming up on Sunday, June 5. Please see helpful information below on how to join our "LA Stars" team, if you haven't already, and start raising funds! Your involvement will help in raising funds for our Los Angeles chapter and national organization.
To learn more and get information about Walk4Hearing, please visit our friends at the HLAA Diablo Valley chapter who put together a great Walk4Hearing overview.
For questions about the Walk, please reach out to Walk4Hearing Senior Manager, Ronnie Adler, at radler@hearingloss.org.
When:
Sunday, June 5
Registration 9:30 a.m.
Stage Presentation: 10:30 a.m.
5K Walk Starts: 10:45 a.m.
Where:
Shoreline Park
200 Aquarium Way
Long Beach, CA
Map It!
More General Info:
Long Beach Walk4Hearing home page.
Why:
Raise funds for our chapter & HLAA national programs
Create awareness about hearing loss and how we can help each other
How to Join the HLAA-LA Stars
Click the "Join Team" green button.
Log in (or register as a new user).
Go through the quick sign-up process.
NOTE – When selecting a non-profit for donations to go toward, make sure to select the LA Chapter (step #2).
Have fun raising money for this worthy cause supporting the hearing loss community!
"My Walk Center" will be your one-stop shop to reach out to your family and friends to ask for their support.
Asking for Donations
Ask as many people as you can for a donation. The numbers will eventually add up. Personalize Your WALK page. Write briefly about why you're walking, what HLAA means to you, and how others can support you
Use your "My Walk Center" to create your emails and contact list to connect with your family and friends.
Use your Facebook Fundraiser from your Walk Center page to easily reach people and get donations faster!
For those not on email or the internet, print out a pledge sheet to get cash/check donations from them in person or by mail.
Resend your message every two weeks. The last month, before WALK, send every week.
Send a personalized thank you note to each donor!
Three Ways to Make Donations
HLAA-LA Stars Walk4Hearing page, or on your personal Walk4Hearing page·
Check – Payable to Walk4Hearing; write LA Stars in memo line·
Cash – needs to be converted to check· Funds can be turned in on walk day; be sure to print a pledge sheet listing donor names, dollar amounts, totals and your name, team and chapter.
Promote This Event!
Tell people you know.
Ask your favorite restaurant if a sign can be put in window
(add team contact, info@hlaa-la.org)
Call, send emails, post online, send snail mail (a` la Grace)
Volunteer
Registration, giving out t-shirts, hat sales, Keeping an eye on raffle & snack booths, HLAA table, set up & take down.
Sign up today!!
Sponsors / Raffles
If you know any companies who might sponsor the Walk or offer raffle prizes, contact us at info@hlaa-la.org.
One Last Note
This event is really fun and rewarding. Members and their family/friends come out to beautiful Marina Green Park in Long Beach where
We walk along the ocean.

We talk.

We laugh.

We become better acquainted.

We get some exercise.

We eat bagels and other goodies.

We take pictures.

We root for each other.

We show others who we are.

We raise funds.

We raise awareness.

After all of that, we go out for margaritas, to celebrate!!

That is who the LA Stars are!