March 23 Chapter Meeting – Emergency Preparedness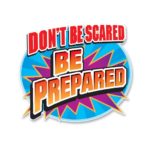 Our next chapter meeting is coming up soon, Saturday, March 23rd! "Emergency Preparedness for the Hard of Hearing." You don't want to miss this highly informative seminar!
It's time for real talk about what to do in case of emergency. Wondering how you'll be notified? Want to know what to expect in shelters? Need some ideas about how to prepare for incidents like earthquakes and wildfires? Rick Pope will be talking about accessibility for people who are hard of hearing in emergency situations.
Rick is a sign language interpreter with over 25 years experience having grown up in a home with a deaf father. As an ADA Coordinator for the City of Los Angeles, Rick has responded to various incidents working with first responders on the ground. He has been involved in planning for the deployment of interpreters in emergency/disaster situations and training people to ensure accessibility in shelters. In addition to his interpreting experience, he is a former Army medic, a Search and Rescue Specialist, a Military Emergency Management Specialist and, most recently, a Park Ranger in Denali National Park and Preserve, Alaska. He resides in downtown Los Angeles with his son, Maverick.
We meet at the Sherman Oaks Library, 14245 Moorpark Street. Socializing starts at 9:30am, with the meeting running from 10am-noon. Coffee, juice, and water provided. Feel free to bring a breakfast item to share. See you there!