Love is in the Air! February Meeting Not To Miss!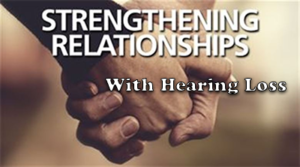 Love is in the air! And in honor of Valentine's Day, we are doing a moderated panel on coping with hearing loss featuring: married couples, single and dating, and parent-child challenges! Note these panel participants will come from a mixed environment – one hearing and other hard of hearing.
It's going to be an awesome love-fest, so come prepared with any questions you may have regarding your own communication/relationship issues, and please invite hearing family members and significant others to attend!
Networking starts at 9:30am with the meeting starting at 10:00am and going until 12:00pm. As always, the meeting will be CART captioned and looped for tele-coil users; coffee and refreshments will be served. You are welcome to bring breakfast potluck items to share.
We are meeting at the Huntington Memorial Hospital. Directions here. See you on February 24th!
Meeting Details
Our meetings take place East Room of the Wingate Building at the Huntington Memorial Hospital, 100 W. California Ave, Pasadena.
Click here for a map of where to park and follow the directions to help you get to the East Room.
PLEASE NOTE: If you cannot or do not wish to walk up or down steps, here are two alternate routes to get to the entrance of the Wingate Building:
1. Use the valet parking at the main entrance of the hospital on California Blvd. Walk through the main hospital building, down the ADA accessible ramp into the courtyard, and enter the Wingate Building.
2. Park in the East Parking Structure. Walk across the street and enter the emergency room doors to your right at the bottom of the stairs. Take the elevator to the 2nd floor, which will let you off near the hospital's main entrance. Take the ADA accessible ramp into the courtyard, and enter the Wingate Building.
As always, the meeting will be looped and captioned.
When: 10 am-12 noon, February 24, 2018. Doors open at 9:30 am so come early to meet and greet!
Where: Huntington Memorial Hospital, North/South Room (room is right next door to our normal East room), Wingate Building, Pasadena, CA 91105.