2018 Convention is Coming Soon!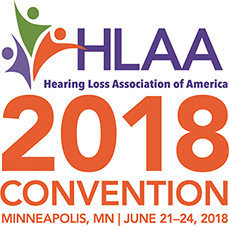 It may seem a long ways away, but it will soon be June which is the month the annual HLAA Convention is held. This year it will be in beautiful Minneapolis, Minnesota from June 21-24. Early bird registration is now open until March 31 so if you are planning on attending, now might be a good time to take action.
The Steering Committee will review registration procedures, including likely consideration toward allowing a fellow chapter member to have their registration paid for by the chapter. This often goes toward an individual who has not attended the convention before.
Some Highlights
The opening night Get Acquainted Party will include light fare, entertainment, and a cash bar
The National Awards Breakfast & Ceremony  will be held on Thursday morning
The State and Chapter Awards Ceremony & Reception will be held on Wednesday evening. Yup, you read right! The awards ceremony is being split into two separate events. This ceremony will highlight state/chapter awards, while the national awards will be presented on Thursday morning.
The Research Symposium, Hearing in Noise will be on Friday morning.
Sunday will be available for the Twin Cities Highlights tour. You will want to take some time to explore Minneapolis and the surrounding area. There is so much to see and do!
Educational workshops will focus on: Hearing Assistive Technology (HAT), Advocacy, Living with Hearing Loss, Hearing Aids & Cochlear Implants, and Hearing Loss in Health Care Settings
If you are planning on registering on your own, you can now do this online. For a complete overview and information about the convention, including hotel, location, things to do and FAQs, please click the link below. If you have any questions, just reach out to us via the Contact Us form or get your answers by attending our chapter meeting. Hope to see you there!